DEFAULT
: Intermediate to advanced: Antonyms #1
Geschrieben von pedlar
13.04.2012 14:01
(
1991 x gelesen
)
Antonyms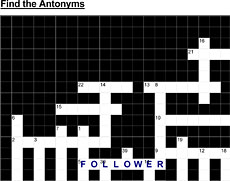 Intermediate to advanced learners. Find the correct antonyms to the clues given. A great way to build your English vocabulary.

Klicken Sie auf die Grafik um zum ausdruckbaren Kreuzworträtsel zu gelangen.
Viele weitere Lerntipps, Lösungen und Spannendes zur englischen Sprache erfahren Sie auch über meinen Twitter Feed!
Die Lösung finden Sie unter "Mehr Infos"
Hier geht's zur Lösung:
Antonyms Solution
(printable PDF)